Fly Fishing New Zealand with Poronui Manager Eve Reilly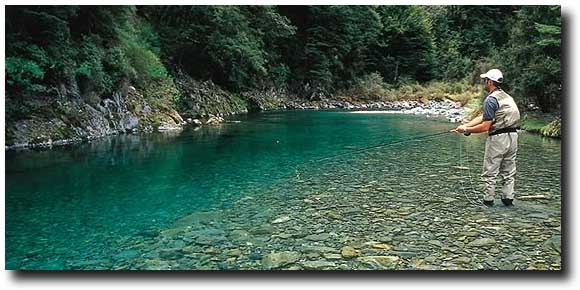 The Compleat Angler and Angler Adventures present "An Evening with Eve Reilly". Eve celebrates managing the legendary Poronui Sporting Lodge for 20 years. Poronui, remotely located in the central part of the North Island of New Zealand, was recently voted by Forbes Magazine as one of the top 10 fly fishing destinations in the world, with a team of professional guides and convenient access to many of New Zealand's best quality fishing waters.
Join Eve Reilly and Judy Hall for a spectacular visual presentation and to hear Eve's masterful stories of the wily brown and rainbow trout fishing in the North Island (the ones that got away and the ones that didn't). Judy and Eve are both keen fly fishers and outdoor enthusiasts. Please join us Tuesday, September 10, 2013 at the Compleat Angler's new location, 541 Post Road, Darien, CT, 7:00 PM.
We will have some nice door prizes, as well as offering anyone at the presentation who books a minimum 6-night/5-day fishing package at Poronui Sporting Lodge from October 1 – December 31, 2013 a substantial discount only available through Angler Adventures.
Come see and hear what it's like to trout fish this magical country. Click here for more information on Poronui.
Call or email The Compleat Angler or Angler Adventures to reserve a spot, seating is limited.
Angler Adventures: 800-628-1447 (860-434-9624); Judy@angleradventures.com
The Compleat Angler: 203-655-9400; compleatangler@optonline.net
Our Services Are Free
This post is over 1 year old. Contact Angler Adventures for current pricing and discounts.