Pacific Fins Guatemala Resort and Marina is a luxury fishing resort featuring a fleet with some of the newest, fastest and most luxurious sportfishing yachts in Guatemala providing access to what is without question, the Sailfishing Capital of the World. In addition to meticulously maintained sportfishing boats and top of the line Shimano tackle, guests fish with an experienced Captain and two seasoned mates, from some of the best offshore fishing crews in the world.
The Pacific coast of Guatemala features some of the world's most consistently calm billfishing waters. Pacific Fins typically focuses the fishing program around a deep 15 miles wide underwater canyon, called the "Pocket". Fishing days can start a mere 15 to 20 miles offshore or as far as 50 miles, depending on the fishing and the conditions.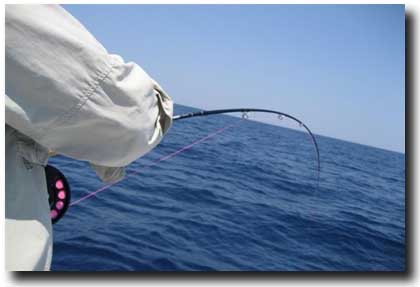 The crew on each Pacific Fins' charter boat prepares a hot lunch for the anglers on board and serves snacks of fresh pineapple and mellon. Several of the crews make fresh Ceviche or Sashimi right in the galley.
Sailfish, Marlin, Dorado (Dolphin), and Yellowfin Tuna are the most common species in the Guatemala. On average, angler's can experience 15 to 20 sailfish bites a day with 40 or more bites possible during the peak season (November through May). These Pacific Sailfish average 80 to 90 pounds, but fish over 125 pounds are common. Marlin can be caught year round in Guatemala but the largest concentrations seem to occur in late September through December. Pacific Fins has reported good Marlin fishing recently, with blue, striped and black marlin being caught, but 300 – 600 pound blues are the most common.

The Pacific Fins' fleet and experience captains includes, Captain Nester Garcia on the 2003 36-foot, Jersey Cape Custom Fishy Business; Captain Carlos Diaz on the 2008 35-foot, Cabo Hooked Up; Captain Tyson on the 1998 51-foot, Ricker La Penultima; Captain Marcial Fajardo Ruiz on the 1998 36-foot, Bertram Perla del Mar; and Captain "Kiwi" Chris van Leeuween on the 2001 39-foot, Bertram Allure. Pacific Fins also works with a number of smaller, local boats including the 32 Blackfins Gypsy & Maverick, and the venerable 31 Bertrams, Piragua, Tranquility & Drop It, providing more economical options for anglers.
Pacific Fins Resort is newly renovated and features four air-conditioned villas each offering two bedrooms and two bathrooms and a central living room. The living rooms feature queen sofa beds, flat screen satellite televisions and kitchenettes.
Sliding glass doors open on to a sun deck overlooking Pacific Fins' landscaped, ocean-front grounds and the pool and dock areas. Along with the villas, Pacific Fins has individual private rooms available as well. Other amenities include a wireless Internet connection, free phone calls to the US or Canada, and gourmet meals. For after fishing relaxation, there is a full bar, a pool and a spa.
PACIFIC FINS RATES
October 1, 2018 – May 31, 2019
(All rates are quoted per person and are subject to change)
31 ft BOAT – "Standard Package"
Aguardiente – Stragos
3 Fishing Days
Extra Days
4 Anglers – Villa
$2,475
$ 660
3 Anglers – Villa
$2,960
$ 805
2 Anglers – Suite
$3,550
$1,015
1 Angler – Suite
$5,995
$1,785
 
31 – 33 ft BOATS – "Performance Package"
Gypsy – Maverick – Danmark – Mijoo – La Joya
3 Fishing Days
Extra Days
4 Anglers – Villa
$2,915
$ 800
3 Anglers – Villa
$3,580
$1,010
2 Anglers – Suite
$4,375
$1,275
2 Anglers – Villa
$4,775
$1,375
 
35 – 40 ft BOATS – "Luxury Package"
Sirena – Chechos – Knotwork – Danmark
3 Fishing Days
Extra Days
5 Anglers – Villa
$3,000
$ 815
4 Anglers – Villa
$3,250
$ 910
3 Anglers – Villa
$4,035
$1,155
2 Anglers – Suite
$5,050
$1,375
$5,550
$1,610
Packages Include: Ground transfers between Guatemala City and Pacific Fins in a deluxe air-conditioned van; Beer, rum/vodka, sodas, Gatorade and bottled water; fishing as described; air-conditioned accommodations at Pacific Fins as described; breakfasts at Pacific Fins; lunches aboard the boat including beer and soft drinks; gourmet dinners at Pacific Fins; Wireless Internet access; Vonage phone calls to the US from the resort; Laundry service; Sky TV Satellite Service with English Programming; Flat Screen TV's in each Villa.
Packages Do Not Include: Airfare to Guatemala City; alchoholic beverages other than beer aboard the boat; meals in Guatemala City; Gratuities; items of personal nature.