Skies Clear Over Bariloche, Argentina
The June eruption of the Puyehue Volcano in Chile created havoc for fisherman traveling to Bariloche and San Martin de los Andes, Argentina in November, December and early-January. Because the wind blown ash is abrasive and damages jet engines, there have been virtually no flights into these regions for several months. On January 13, Lan Airlines announced that they are resuming flights to Bariloche!!
Fortunately the ash did not affect Esquel, Argentina and our clients travel plans went smoothly to Rio Manso and Arroyo Claro Lodge. Dan and Margaret Benton returned from Rio Manso Lodge January 16 raving about the fishing (including a 10 lb Brown, see photo right) as well as the non-fishing activities. Mike Jones was equally ecstatic about floating the Chubut River with Jorge Grazosi, owner of Arroyo Claro Lodge. Mike landed over 150 trout of impressive size on his 3-day float.
Getting clients to Hosteria San Huberto to fish with Fly Fishing Andes was more challenging, but those who went were rewarded. In December, Scott Boley counted over 100 fish caught by sight casting with a dry fly in a week of fishing the Malleo. Scott only counts trout over 17 inches! In early January, Jim and Joan Hunter also fished the Malleo and had the best fishing ever in 13 years fishing Patagonia, Argentina.
We also added a new destination to our prestigious Argentine Outfitters, Estancia Tecka. Tecka is by far the largest private property catering to fisherman in the world. Located 2 hours south of Esquel, Tecka is a working sheep and cattle ranch, consisting of 435,000 acres. 45-miles of the Rio Corcovado, and 35-miles of the Rio Tecka Spring Creek run through the property. Cost is $5,600 per person per week (Saturday – Saturday). For space availability and details, call 800-628-1447.

Gerry Weber with a 10 lb Bonefish
Winter Weather Wins for Weber, Brenneman
This may not be true for every destination, but in the Bahamas, specifically the North Shore of Grand Bahama, the coldest months (January / February / March) are the best time to catch big bonefish. We call it the risk / reward ratio. You run the risk of dicey weather; especially in January, but with a little luck, you reap the reward of a double-digit bone, or several. That's what Angler Adventures' clients found at North Riding Point Club in January 2011. Banking on their experience, they rebooked for January 2012. The fishing was good in 2011. It was spectacular in 2012, and so was the weather. Three straight days (January 8, 9 & 10) of bright sun and light winds produced daily catches of 15 – 20 bonefish. The best day was 28 landed and released with 3 fish over 10 pounds!
Want to get in on the action? Book a trip to NRPC between now and March 1 and get a free night / day of bonefishing. This offer also applies to the months of March, June, July, October and December 2012. For details visit https://www.angleradventures.com/nrpcfreetrip/nrpc-promo.htm
North Bight of Andros: Land of the Giants
Yes, there's a flat in the North Bight the locals call "Land of the Giants", where any given day, you're apt to encounter a cadre of double-digit bones. Our favorite lodge, located on the North Bight, is Tranquility Hill Fishing Lodge (THL).
If the fishing itself doesn't entice you, THL will sweeten the pot. For the remainder of 2012, you get a single room for the cost of a double fishing package. Example: 2 anglers staying 4 nights in single rooms, fish 3 days sharing a boat/guide pay just $1,665 per person.
You get a single room at the reduced rate of $2995 per person, if you stay 7 nights/6 days sharing a boat/guide with your partner.
In addition, anyone who catches a bonefish 12 pounds or bigger on a fly, gets a free return trip within one year! To be eligible for the free trip you must be accompanied by a companion who pays the double rate.
This promotion is available exclusively through Angler Adventures and is based on space availability at THL.
Bring your Boga Grip!
Chile – Mice, Cantaria, and Trout, Oh My!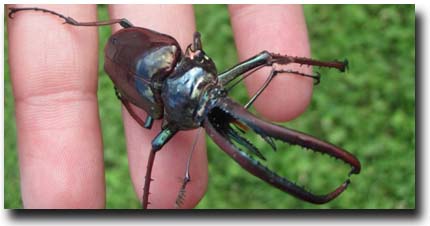 Chile is known for big brown trout taking big surface flies, which is especially true in the Coyhaique area of Southern Patagonia. This season is better than most. The Patagonian Spring (November and December) was the culmination of the rodent boom in the Paloma River Valley. Anglers did extremely well skating mouse patterns for big trout, primarily in the Paloma, Magote, and Simpson Rivers as well as the Boca de Leon, and the Elizalde Outlet.
2012 is a cyclical year that should bring a better than average Cantaria Beetle hatch. These are the largest beetle in Chile and can reach 3 inches in length. Between feeding on Mice and the hatch of Cantarias, which just started, the trout in the rivers surrounding Paloma River Lodge and Cinco Rios Chile are plump and continually "looking up" for their next big meal.
St Brandon's & Seychelles
It's been a tough year for Fly Castaway, the outfitter operating the MY Gryphon mother ship ferrying anglers to the mind-blowing bonefish, trevally, and Indo-Pacific Permit fishing ground around St Brandon's Atoll, Mauritius. Owner Gerhard Laubscher told Angler Adventures he expects to have the Gryphon operational by late-March. Currently the ship is undergoing major repairs. Our advice to clients who have not yet booked a trip, is to consider a land-based alternative, such as Fly Castaway's new lodge in Farquhar, Seychelles or the Alphonse Island Resort, which continues to produce spectacular fishing.
We'll notify you on the progress getting the Gryphon operational in our next newsletter.
This post is over 1 year old. Contact Angler Adventures for current pricing and discounts.