Angler Adventures Clients Catch Big Fish!
After seeing Bob Cosgriff's massive Permit, we got to thinking about other big fish Angler Adventures clients have landed recently. Most of the time, these anglers don't stumble into huge fish, they're hunting them. For us that means, helping them choose the right destination and making sure they're prepared.
Bob Cosgriff, Acklins Island, Bahamas

The photo says a lot, however you can read Bob's point of view on our Blog.
Carl Heilman, Grand Bahama Island, Bahamas
, biggest bonefish
A great photo of one of the biggest bonefish we've ever seen. Read more on our Blog about the other fish landed that week, including a pair of tarpon.
Steve Renehan, Patagonia, Argentina

This buff 8 lb Brown Trout was among 2 dozen fish landed on dry flies in Argentina with Fly Fishing Andes. You can find more details in our April 2014 newsletter.
Carl Heilman, Patagonia, Argentina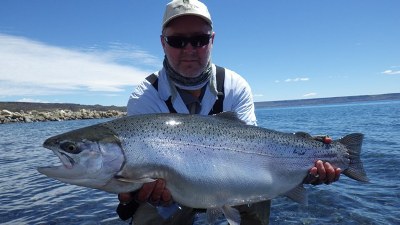 It's not a surprise to see a photo of huge rainbow from Jurassic Lake, but this fish was too big not to share. Also, the group landed a ton of big fish. Check out the video they put together.
Coming up next: Angler Adventures Clients and Double Digit Bonefish from North Riding Point Club. It's no coincidence our clients are joining the 10 lb Club!
Hint: While you're waiting, check out our Blog on Winter Bonefishing
This post is over 1 year old. Contact Angler Adventures for current pricing and discounts.